(13)
Despite it's exclusion from the special club inhabited only by primes, for this post, 2080 is a pretty interesting number. You might think I'm talking about the year 2080 – 65 years away – but in the words of the great Jack Handy, from SNL's deep thoughts, you'd be wrong. 2080 refers to something entirely different than that.
In 1975, I was living in a small house at the end of a dead end street in Arlington, Virginia. I worked nearby as a drug and alcohol rehabilitation counselor in a half-way house for incorrigible teenagers. Thirty semi-incarcerated kids (the door was always open) had been arrested after committing minor crimes (joy riding, shoplifting, small-time breaking and entering thefts, etc.) and were given a choice to go to juvenile lockup or enter this program for a year. Naturally, most of them chose the latter and remained confined to a small residential building across from the county courthouse where they attended school classes and group therapy. The program was meant to redirect their lives to help them stay out of trouble.
Toward the end of the summer, the three women with whom I shared my home announced their plans to leave at the end of August. Two of the women who were leaving had just graduated from nursing school and had taken jobs elsewhere while the third had decided to move in with her boyfriend. This left my two male housemates and me with three empty rooms to fill in our six-bedroom farmhouse.
At about the same time, a young musician straight out of college had just accepted a job as the music director of Living Stage, an improvisational theater company in residence at the Arena Stage in D.C. and begun a search for a place to live in the area. She answered a classified ad in the Washington Post describing the vacancy: three women needed to share a house with three men (each would have her own bedroom), quiet neighborhood, "mostly vegetarian". We were macrobiotic but that wasn't going to be easily understood by most applicants. The rent was something like $45/month; it was 1975, after all, and that was the market rate.
*   *   *
The hazy sky flickered with light on that late Saturday afternoon. It was quite humid and although only an occasional crackle of static accompanied the abrupt heat lightning, there were thunderstorms in the distance. Sitting with an old college friend in the back yard, I heard a car pull into the driveway and, just as I called out instructions to come around back, in walked the woman who answered the ad – the one who moved into the house a few days later while I was on overnight duty at my job. I wouldn't see her again until the following weekend as our work schedules kept us apart.
When she came to dinner the following Friday evening, she'd already accepted my invitation to go see a Kennedy Center performance of Hal Holbrook in his extraordinary role as Mark Twain. As we left for the theater, she was surprised to learn that others weren't joining the outing and soon realized she was about to go for a night out – her first date — with her new housemate.
After the performance, we went to a small club in Georgetown where we watched a belly dancer perform. She was shocked as I lit up a cigar – one of maybe four I'd every smoked in my entire life, before or since. What I was thinking, I'll never know.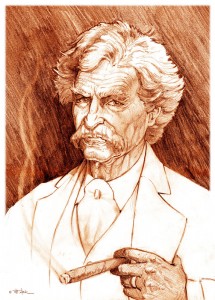 The fare was Middle Eastern, so we ordered some hummus to share and soon afterwards, we walked down M Street where we sat outside a small café and ordered strawberry shortcake. We chatted about the show and nothing in particular, and exchanged small talk about music, work and life. The wind was picking up and it looked like rain, so we found our way back to her car and drove across Key Bridge to Arlington and the shelter of our shared farmhouse.
Once inside and out of what had now become stronger wind and sharp claps of thunder, I put Keith Jarrett's "Koln Concert" album on the turntable and we stretched out on the big living room couch, carefully positioning ourselves at each end with our feet toward the middle. Jarrett's soft piano set a quiet tone at first and we soon began to exchange simultaneous foot massages. As the pace of the music quickened, so did the intensity of the wind outside as a storm closed in. Jarrett became more passionate in his playing and before too long, my housemate and I were side by side, my arm wrapped around her waist. When I finally kissed her for the very first time, lightning struck the house and the power went off. The music slowed to a halt and we both burst out laughing.
That was 2080 weeks ago, 2085 Saturdays ago, August 23, 1975. Forty years later, our lives are still full of music and laughter and an occasional lightning strike.