(31)
On September 15th, Hungary's construction of a 13-foot-high fence along its Serbian border forced refugees fleeing Syria to re-route through Croatia. On September 20th, the U.N. quickly established a refugee camp at Opatovac, Croatia with a capacity to temporarily shelter 5,000 refugees trying to get to Western Europe.  The space required for that many cots would take up six football fields; however, more than 85,000 migrants have now entered Croatia since September 15th, when Hungary erected that fence and more are arriving every day. Try to visualize instead an area that would cover 100 football fields instead of just six — and that's just for the area needed for the cots.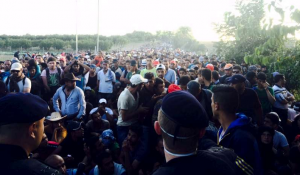 With Hungary's border closed, tens of thousands of refugees are now corraled in a UNCHR (United Nations Commission on Human Rights) facility at the margins of Croatia — an already struggling Balkan nation of 4.2 million, swelling roads near its border as relief workers and government agencies attempt to improve the situation and journalists race to cover the story.
Yesterday's constant rain inflicted misery all around. Aid workers handed out dry clothes and described their horror at seeing infants soaked to the skin through layer after layer of wet clothes. Refugees are sleeping out in the open, and temperatures are dropping.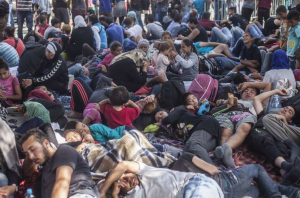 For months now, I have listened with shock and a feeling of helplessness to the news of the plight of refugees from Syria flooding the European borders. This tragedy has a cause we won't soon resolve, and although this crisis is merely a symptom of a senseless war, I am even more motivated to do something beyond reading the news while I wonder what will happen next. This crisis is already an unprecedented exodus and requires an "outside the box" intervention that can support everyone on the ground.
In two weeks, Second Response will have an opportunity to directly reach some of our nameless brothers and sisters who are now living through this horrific trauma – but to do so we need support. With it, my eldest son Jonah and I will first be conducting a PLAYshop training at the International Macrobiotic Convention in Zagreb attended by delegates from all over Europe. Following that, we expect the Croatian Ministry of Social Policy and Youth to help us get to Opatovac on October 14th and 15th where we can offer our support to the refugees — especially the children – and train the UNICEF staff, Croatian Red Cross responders, and other volunteers on site in our PLAYshop trauma protocol — the same, effective work we have done in Nepal, the Philippines, Japan, Samoa and Indonesia. Gaea Logan, our partner from the International Center for Mental Health and Human Rights – herself experienced in traumatology following decades of similar work particularly with Tibetan refugees — will join our efforts.
To get on the ground in Opatovac, Second Response needs to quickly raise $12,000 to cover costs of air and ground travel, simple meals & accommodations for our instructors, plus medical supplies, printing, translation costs and other necessities. We are experts in this labor of love and are dedicated to do everything we can to relieve suffering and reduce the traumatic stress impacting children. Without such simple yet effective psychosocial interventions, history suggests as many as 10-12% of children will suffer the lifetime consequences of P.T.S.D. Our work can reduce those occurrences and help to restore calm and stability to both overworked caregivers and thousands of refugees.
Please consider ways you might support our efforts with a donation or other resources.
We are grateful for any amount and inspired by your trust and partnership in our shared vision to help children around the world facing traumatic events. Now more than ever, we are especially thankful for financial support that will enable us to provide relief in the urgent situation in Croatia.